Please don't be shy! I don't bite (unless you like that sort of thing ;). I don't post much either, but I like friends!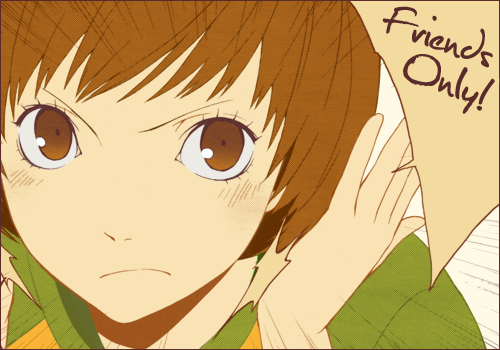 Otherwise, just comment to be added. :)


Current Mood:

accomplished

Current Music:

Minami Kentaroh - Mou Ichido Omoidasou Ano Yuuki




If anyone else wants to do this, here is the code (in English):

So I bought Pokemon Blanche the other day, but I haven't gotten around do doing this yet.
seriously, please don't take it personally. I'm just realizing that it was time for a massive cleanup of people I don't really talk to/read entries anymore (I cut half the comms I was watching, too).

I don't post anything interesting anyway, so you're not missing much.
If I cut you,
LEAFY'S TEAM
2880 1920 9324
Interobang
Meganium ♂ Lv. 37
Naive nature
At
Ampharos ♂ Lv. 36
Hardy nature
Modifier
Arbok ♀ Lv. 36
Impish nature
Ellipsis
Slowpoke ♀ Lv. 35
Bashful nature
Ampersand
Noctowl ♂ Lv. 36
Serious nature
Predicate
Growlithe ♂ Lv. 35
Serious nature




(

I made a Snow loser-tableCollapse

)



Code (by
sylladicks):



Anyway, if I cut you, it's not because I hate you or anything, it's just because I feel like we haven't talked in ages/we've probably drifted out of common fandoms/etc. Just a little cleanup. If you want me to add you back, just go ahead and ask. :)

IF YOU'VE FRIENDED ME JUST TO READ MY FIC, well, I don't write very much anymore, A, and B, I'm going to try moving all the fic stuff over to my Dreamwidth account (same username), where it'll be unlocked and you can peruse to your heart's content. 8D

It's not even like I post real entries anymore, ffffff.

Edit: YOU GUYS I'M NOT GOING ANYWHERE. 8| Lern2read.
Wow, I've never done that before. >____>
LEAFY'S TEAM
1890 8044 6623
Shinxy
Luxray ♀ Lv. 66
Mild nature
Whoopi
Quagsire ♀ Lv. 66
Modest nature
Kameda
Torterra ♂ Lv. 69
Lonely nature
RAPIDASH
Rapidash ♀ Lv. 68
Naive nature
STARAPTOR
Staraptor ♀ Lv. 68
Bashful nature
Rockville
Golem ♂ Lv. 58
Serious nature




(

As if one wasn't enough...Collapse

)



To be continued...
Current Mood:

exhausted